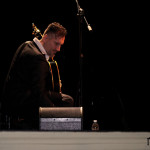 This is a brand new radio show called "L'angolo di Mike" and it's focused on good independent music selected for you by Mike 3rd.
Broadcasted in Italy thanks to some lovely independent radio stations in both Frequency Modulation (FM) and Amplitude Modulation (AM) the show is a good appointment to discover new artists from all over the world.
Here is a first list of radio stations:
- Amica Radio Veneta - Every Saturday from 12:30 am to 1:30 pm
1017 Khz (AM) / streaming here: http://www.amicaradioveneta.eu
- Radio Amore Catanzaro - Every Tuesday and Thursday from 4:00 pm to 5:00 pm
99.200 Mhz FM Catanzaro Sud & Costa Ionica "Sito di Staletti (Via provinciale)" / 87.900 – 96.800 Mhz FM Catanzaro Centro-Nord "Sito di Gagliano" /  streaming  here: http://www.radioamorecatanzaro.com
- RVD Rovigo (Radio Voce nel Deserto) - Every Monday 6:00 pm
87.700 Mhz FM / in streaming here: http://www.radiovoceneldeserto.it
- RT Radioterapia il Mercoledì dalle ore 21:30 – streaming dal sito  https://www.rtradioterapia.it
— — — —
"L'angolo di Mike" podcast on SPREAKER
Listen all the episodes on your digital device, you can now download or listen on Spreaker!
Here the list of the episodes: Episode I - Episode II - Episode III
— — — —
Note for musicians:
Your music is precious like a diamond.
If you want to be part of the show please send an email to mike3rd@mike3rd.com
I don't broadcast demos but, if you're on tour in Italy and you want to join the show at Prosdocimi Recording Studio we can do it! And we can organize a small live in the studio with interview.