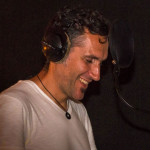 In a few days, my new ep titled "
quarantini
" will be available.
An intense adventure where I challenged myself to:
to play all intruments
to arrange all parts
to produce the ep
to mix, record, engineer it
Thanks quarantine and thanks virus! You're the main reason why I started this crazy, fun adventure.
I really hope you like these first three trailers made to allow you to get into the creative process of my work.
Stay tuned for more details and contents.
Bye